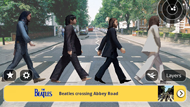 Augmented reality will soon be available on smartphones to transform site visits. Written by Simon Johns
Imagine walking down the street, looking for somewhere to eat. You use your phone to photograph a restaurant, and the overlay on the screen shows you menu items pulled from the restaurant's online menu, reviews from newspapers and so forth.
Science fiction? No, this is available right now from a startup called Layar (www.layar.com), with content from Yellow Pages, Google, Flickr and Wikipedia.
Modern smartphones, such as iPhones and Google Android devices, can determine their own location through GPS and an internal compass, they can download data through mobile broadband connections and they have reasonably powerful graphics-processing capabilities. These provide the necessary ingredients for mobile augmented reality.
While consumer applications have come first, the possibilities are endless for retail, medicine, education, engineering and construction. Imagine standing at a construction site, viewing it with the wireframe model overlaid. What value would that have for the client or in planning submission or public consultation? Imagine being able to click on a balcony four floors up and get the flat's information — number of bedrooms, sales cost, floor plan, the environmental specifications. And being able to "view" the shadows of buildings play across the plot and any existing buildings through a time-lapsed year — what would that be worth?
This is far better than either a traditional CGI or expensive physical models. As nice as they are, CGIs and models do not place the viewer in the site; they do not have context and relevance. But visualizing the building in its real position — albeit a muddy field — will speak volumes.
By blending augmented reality with local social media sites — blogs and wikis set up to allow comment on new developments, one could obtain residents' comments, images and questions about the design, resulting in a very interactive and pertinent consultation.
During construction, site visits could be augmented by being able to view the actual versus the planned in 3D while at the site —simply point your phone at the building and see the actual and the digital overlaid.
Post-construction, facilities management and maintenance could walk round the finished building, being able to "click" on the building components and getting specifications, data, construction methods, or being able to control the elements — HVAC, security, fire, lift logic and so forth. This would be further enhanced by the use of BIM (building information model) cad tools and software in the design process.
The possibilities for this "new" technology are constrained only by our own visions of use of technology and the hardware with which to support it. At the moment, companies are nibbling at the edges of the technology, with no commercial products yet on the market. But with all the opportunities out there it is surely only a matter of time before someone grasps the mantle.
The lowdown on augmented reality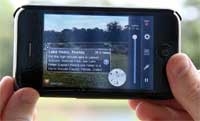 What is it?
An interactive experience based on the overlaying of digital information onto real world imagery in real time. A mix of computer graphics and live video, if you will.
Think, for example, of a sports clip with an overlay showing the direction and trajectory of the ball.
The beauty of augmented reality is that the user can interact with the digital component, accessing and changing the information displayed.
Why are you hearing about it now?
Giant leaps in mobile technology mean that many of us are now walking around with mini-computers in our pockets. All of a sudden, there are exciting possibilities for working applications that don't cost the earth.
Want to try it now?
Start with Wikitude — available for iPhones and Google Android devices. It overlays Wikipedia information onto an image of what you are looking at on your phone. Also check out Layar (www.layar.com) or Google Goggles (www.google.com/mobile/goggles)
Postscript :
Simon Johns is an IT consultant and former director of IT at Broadway Malyan.
Visit his website at since68.wordpress.com
Popularity: 4% [?]