As economy remains down, it's increasingly important to produce timely, professional and accurate estimates to stand out from the competition. Since firms rely on a variety of methods to produce their estimates, we at Software Advice thought it'd be helpful to create an industry benchmark report to see which method of estimating produces the best results.
Over a period of two months, we surveyed more than 100 construction firms of all sizes and trades to see which method produced the best results. Our goal? Provide the industry with a set of benchmarks that companies can use to compare their estimating processes against industry standards and best practices. To get an idea of the types (and sizes) of firms that participated in our survey, check out the charts below.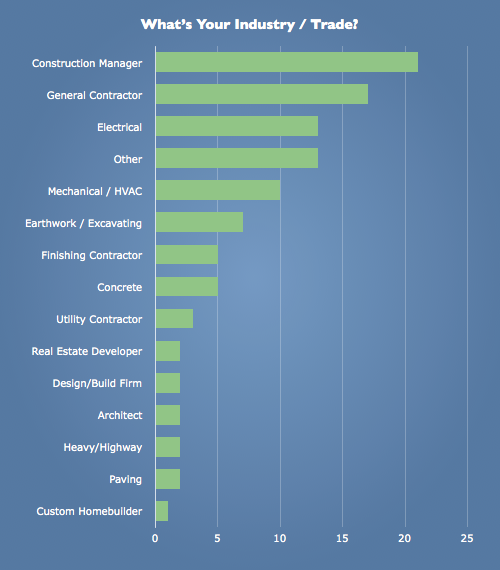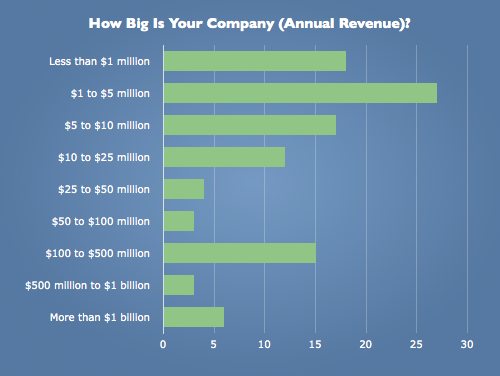 One of the interesting findings from our survey is that the jury seems to be out on whether spreadsheets are an effective estimating method. Respondents were actually evenly split as to whether spreadsheets are effective. However, the majority of estimating software users reported that they were satisfied with their system.
The fact that a majority of estimating software users said their system was working is unsurprising given our data. Our results show that respondents that use an estimating software program to bid on their jobs produced the most accurate estimates. On average these respondents reported under- and over-estimating less frequently than peers that using spreadsheets or estimating by hand. For example, firms that used estimating software tended to under-estimate jobs about 5 percent of the time while spreadsheet users under-estimated jobs around 15 percent of the time.
There were also a few other surprises in our survey results. One of the biggest surprises was the fact that the top estimating priorities of respondents didn't match with their top challenges. For instance, while less than 25 percent of companies consider bid accuracy to be a top challenge, 75 percent reported that improving the accuracy of bids was a top priority for this year. We found this statistic to be particularly surprising since many companies are still under- or overestimating on jobs.
To see the rest of the report, and share your own thoughts on the results, please visit the Software Advice website where you can access the full set of results at: 2012 Construction Estimating Benchmark Report. Feel free to let us know how these results stack up to your experiences.
Popularity: 4% [?]