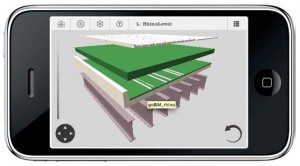 While there are numerous 3D model applications available for the iPhone, iPad and Android, there has not been an application that provides a portable "intelligent model" until now. goBIM, developed by Ian Keough senior technical designer at Buro Happold, is a tool for browsing Building Information Models on your iPhone (an iPad-specific version in the process of being approved for the Apple App Store). As for Android availability, commenters on Ian's goBIM website state that it should not be difficult to tailor this application for Android once the game engine goBIM is based on has been updated.
Currently the application will only handle small files and is primarily web-based, so there are still limitations. However, kudos to Mr. Keough for being the first to provide a solution with such tremendous potential.
Having the ability to access Building Information Models on portable devices will someday allow facility managers to easily identify issues, create work orders, and aid in critical response by using Augmented Reality. During the construction phase of a new project, contractors will be able to walk through a site with their iPhone, Android or iPad and see any phase of the project overlaid on the portable device using the its digital camera. The benefits and possibilities are endless.
BIMable will be keeping a close watch on this technology and will post updates as it matures. In the meantime, be sure to congratulate Mr. Keough and provide input on his contribution to the industry.
Popularity: 47% [?]