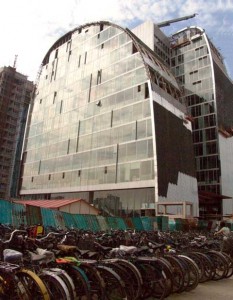 The title is not completely correct, cars are not really good, but they are less bad than buildings.
We hear constantly:
"Cars cause Global Warming" (more accurately contribute to Climate Change).
People are purchasing hybrids to do their part to help save the earth and lower our need for fuel.
We rarely hear:
Buildings are the main problem. (They are)
BIM, specifically the data component, holds great promise to dramatically improve the performance and operation of buildings, as well as insuring that ecologically superior building products are specified. BIM is dependent upon accurate and available data.
In November I attended the Greenbuild Conference and Exhibition in Phoenix. There were hundreds of presentations, 1,800 booths (mostly Building Product Manufacturers) and over 24,000 attendees — more attendees than either the AIA or CSI National Conferences and Exhibitions. Al Gore was the keynote speaker. What is remarkable about this conference is that it clearly demonstrates that the architects, engineers, contractors and owners (private and government) are aware of the importance of the "green" movement. While many people have known of the advantages of well designed buildings for both energy savings and people productivity increases for decades, it has only been in the last few years that their efforts have turned into a movement.
There are fundamentally two components that determine if you have a "green" building:
Design – Site selection, orientation, massing, shading, layout, mechanical and lighting conceptual approach, etc.
Materials and Equipment – Specific products, carpet, tile, paint and equipment, fans, chillers, light fixtures and lamps, etc.
If you have a great design concept but select poorly performing materials and equipment the results of your efforts will be minimized. At Greenbuild, manufacturers promoted their messages as "green" manufacturers. The challenge to those that select and specify manufacturer products is finding out specifics on the products "greenness", how it quantitatively compares to other products and what approaches were used to make the claims. For example a product could perform extremely well within the building environment but have major negatives associated with its manufacturing process, component materials, or disposal at the end of the buildings life. You need much more information than you can easily find to make the best selection, and you need this information on hundreds of thousands of products and materials.
The selection process becomes even more difficult because the manufacturer's products data is supplied based upon the products in a "stand alone" condition. Little data is available on how products and equipment combine to perform in the assemblies that are the building. How the window frame is attached to the building structure will greatly determine heat gain and heat loss. We have data on the building wall, and the frame and glass, but what about the performance of the connection of the two elements?
Today BIM is really BiM; we need to get the "i" to grow up to a big "I". We need more information on products and assemblies. Where are we going to get that information?
Many manufacturers have tremendous testing facilities. US Gypsum has very sophisticated facilities. There are private labs like UL and the NAHB Research Center, there are Universities that have focused programs, the military has research programs such as those managed by the Corp of Engineers, and there are the National Labs like the Lawrence-Berkeley Lab that has a massive collection of data on glass performance.
There is no one Lab devoted to buildings; the materials, assemblies, and design influences on performance. The construction industry is the largest industry in the world, buildings account for almost 50% of all the energy consumed in the world (cars account for 12%). Building construction costs and operations are the largest expense, after employees, for most companies. Through proper design, material selections and operations these costs can be reduced 30%. Buildings are often one of the greatest assets of a company, but only if they have maintained their value and not fall into disrepair or become obsolete.
Automobile manufacturers know tremendous amounts of information on every part and piece that goes into their cars; they are tested, modified, and improved on a continual basis. Cars cost about the same per square foot as a new furnished building, and I have yet to have a sunroof on a car leak, yet I have not seen a building that did not have at least one roof leak. We also know how to make informed purchasing decisions on a car because we have massive amounts of data on performance, options, resale value, reliability and the prestige factor. Ask a car purchaser if they will spend $1,600 more for the sport suspension they can make a quick decision, ask if they want to spend $200 more for a more efficient light fixture and you may get a blank stare. There is simply no easy way to get the data to answer all the questions on the performance and impact of a more efficient light fixture, door, window, etc.
A couple of years ago a collection of architects were asked what contributed to greenhouse gas emissions, the list of options included cars and trucks as well as buildings, the group indicated that 40% was caused by cars and trucks and seven percent from buildings. The actual answer was 12% from cars and trucks and 42% from buildings. If you do not know what is causing a major problem there is a good chance you will not contribute to the solution, so step one to making buildings less bad is that the owners, architects and engineers need to know what is creating the problems, step two is to give them the detailed and scientific information they need to solve the problems through an interface that makes searching for and finding the information needed at the time it is needed.
The National Building Lab
There are several National Labs in the US (Lawrence Berkeley, Sandia, Oak Ridge, Brookhaven, Argonne, Los Alamos, Lawrence Livermore, Pacific Northwest), that focus primarily on defense, nuclear, weapons but also health issues, renewable energy, building component performance and other building related research. We need one more National Lab, one devoted entirely to buildings and the integration and performance of the standalone components as a building system. Because of the National Labs we know tremendous amounts of information, information that has led to making the county more prosperous and powerful. Buildings and their negative inefficiencies upon energy use, people performance and productivity are a major problem that needs to be given the attention that will come from a National Lab devoted to buildings.
Imagine if all the buildings constructed in the US in the last 20 years used 50% less energy than they do, what would that have meant for the need to import oil? What would it have meant for global climate change? There is absolutely no reason that all these buildings could not be using 50% less energy today, except they were not built to do so. What a tragedy if 20 years from now someone asks the same questions about the buildings constructed in the last 20 years. Today in Europe there are buildings that use 1/20 the energy of comparable US buildings.
We need a Lab where:
Entire buildings can be constructed, tested, modified, retested, perfected and then reported upon.
Assemblies can be tested and compared to other assemblies. (When is it better to have highly insulated walls, when is it better to have thermal mass)
Products and materials tested for reliability and performance. (When and why is the $200 more expensive light fixture the right fixture to be specified)
Products and materials studied for their total "green" value by investigating their complete lifecycle of all its parts and pieces, performance and maintenance requirements.
New products, concepts and processes can be discovered and invented.
The information collected is widely distributed to these responsible for our built environment.
Software tools can be created to bring the information needed at the moment in time that it is need and in easy to understand and apply detail.
We need to do research on the value of spaces, do patients get better faster in single rooms or two person rooms, do they get better if the window is large or small, or if it looks out to a wall or a park.
We can make our environment better but we need better data that is widely available.
The cost of such a Lab will be insignificant compared to the construction cost and environmental savings.
Please give me your thoughts, and contacts that can foster this idea further.
Source: http://www.reedconstructiondata.com/news/2009/12/cars-are-good-buildings-are-bad-we-need-another-national-lab/
Popularity: 3% [?]